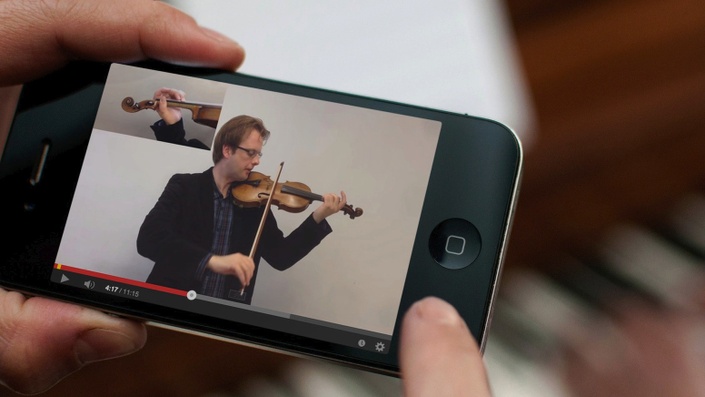 ViolinSchool is a digital learning platform and community for violinists everywhere
Our online courses, video lessons, sheet music, learning resources and practice tools help anyone, anywhere, of any age and any level, to learn and play the violin.
ViolinSchool Standard Membership gives you access to ALL our courses, as well as our sheet music, video library, learning tools, and much more.
Creative Learning: Anywhere, Any time, for Anyone
You can log in to ViolinSchool from your mobile, tablet or desktop computer, to fit your learning around your lifestyle.
Whether you're an adult, a child, a parent, a teacher or an emerging professional, our digital platform will adapt to your needs.
ViolinSchool will become your trusted practice assistant as our programs help you to build up your technique, musical skills, and performance experience. We'll help you realise your creative potential as a violinist and musician.


World-Class Content From Top Violinists and Teachers
As a member of ViolinSchool, you'll have access to our fantastic video lessons, sheet music and online courses, tailored to your age and experience level.
All our materials are created by world-renowned violinists and highly experienced teachers, and our regular articles and features provide a daily dose of inspiration!
You'll find a wealth of learning resources and practice tools to help you realise your dream of playing the violin.
Our digital hub includes instructional videos, exclusive sheet music, theory and musicianship training, technical guides, and much much more.




Learning Support & A Friendly, Helpful Community
When you join ViolinSchool, you'll become part of a warm, friendly community of learners from all around the world.
Make friends, share your progress and exchange tips. Join a class, take part in a jam session, or find a meetup in your area.
When you need more in-depth support, our highly experienced Learning Advisors are here for you. Join a live online class, or email our Learning Team with any questions – we're here 7 days a week to help you learn!
What to LEARN
Learn all the many varied topics of violin playing with our online courses and video lesson library. Get your music theory and musicianship skills up to speed so that you can read music at sight.
Browse our curriculum to see all the topics we've got coming your way! Start with our free courses, then upgrade to ViolinSchool Membership to access all our premium courses.
How to PRACTICE
When you practise efficiently, effectively and creatively, you'll always keep improving. Take our introduction to practice course, or ask us for a personalised practice plan when you become a member!
Get into a good routine with your scales and arpeggios, learn how to prepare for exams, and hone your sight-reading skills! As you start to see results, you'll be motivated to practise more and more… your playing will become ever more rewarding!
Music to PLAY
Explore our immense, ever-growing sheet music library and download pieces for solo violin, duets and duos, chamber music, orchestra and more!
Learn how to build and maintain a repertoire of music. Create a wishlist of music you'd like to play, and organise the music you already can!
Events and Classes
If you're in or visiting the United Kingdom, then don't forget to drop in to see us in London!
Our popular Violin Orchestra (for players of EVERY age and level!) runs twice a year in London, and we also run regular Group Classes and Courses throughout the year.
Personal Tuition with the ViolinSchool team is also available at our studio near Victoria Station.
ViolinSchool Membership
What's included:
Online Courses
Video Lessons
How-to Video Guides
Printable Sheet Music
Scales & Studies
Technical Exercises
Library of Practice tools
Library of Features & Articles
Learning Advisor support 7 days a week
New learning resources every day!
$19/month. No Contract. Cancel Anytime.